Honestly, I'm only posting about this soup because I want to link up to my sister's linky party. :-)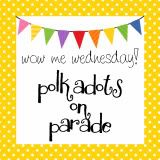 But...I made yummy soup last night! I haven't felt great this week. I was getting together with friends to watch a football game and thought some soup loaded with veggies might help me feel better. It was SO good that I didn't even remember to take a picture until I was eating leftovers this morning. It was veggie-filled enough to make me happy, but filling enough to make the men happy.
Water - maybe 5 cups?
4 large carrots, peeled and sliced
1 can diced tomatoes with garlic
1 red bell pepper, diced in larger pieces
1 medium yellow onion, diced
Basil - maybe 1/2 Tbsp
Garlic powder - 1/2 tsp
Black pepper - three dashes
1.25 lbs. mild Italian sausage (uncooked, ground, not links)
Cook all of that, uncovered, until the sausage looks done.
Then add a package of frozen spinach (10 oz.?) and simmer until the carrots are done, but not mushy.
Add:
4 oz. sliced mushrooms
1 package frozen cheese tortellini
Bring back to boiling, boil 3-4 minutes until tortellini are the consistency you want, hopefully not mushy.
Add salt to taste; serve topped with Parmesan cheese.